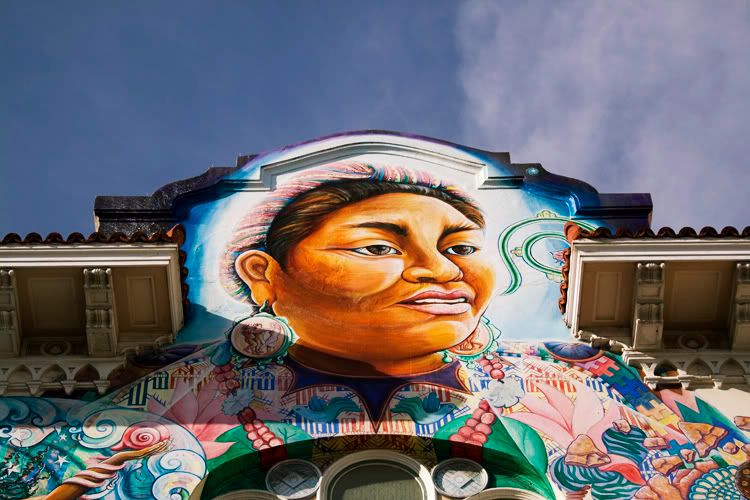 though i'm getting used to it, about a half dozen times a day i suddenly have the realization that i am in california. i mean, it is January 6 and to my body/psyche i should either be knee deep in snow or puddles. somewhat unfortunately, that realization usually brings
this song
into my head. For some reason that song got into my head way back in 1988 and has never really freed me from its clutches. I'm hoping it'll lessen its hold as the excitement of visiting here gets a wee bit less shiny and new!
the weekend brought more exploring of both the east bay and of san francisco. i did a full on tour of san fran...the mission, the castro and my favourite...haight~ashbury. i love the colourful buildings, gorgeous architecture and yes, even the ginormous hills. watching the movie
Milk
right after visiting the Castro was perfect as I had just seen the setting where all of that history took place.
the next day brought more walking, this time from oakland to berkeley, checking out all the neighbourhoods and popular streets i'd heard about. maybe i was just sore from the massive amount of walking i've been doing, but thus far berkeley hasn't really swept me away. or at least compared to the piedmont and rockridge neighbourhoods in which there are so many kind smiles, cute shops and so much delicious coffee that i think i could be happy ever after there.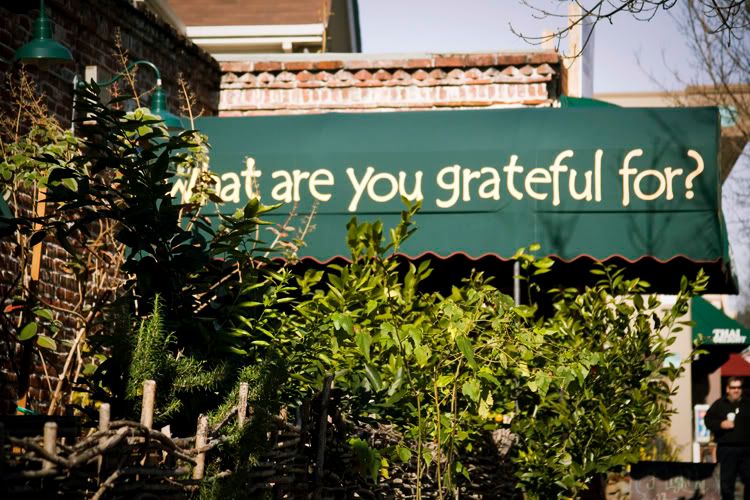 but i did have a mission in berkeley, to find the place that i'd heard of so much in SARK's books...cafe gratitude. now, i didn't really bring the address but remembered the street name so when it came to finding it i was way past hungry and fully tired. but finally in the distance there it was, this sign saying "what are you grateful for". at that moment, all I was honestly grateful for was that i could stop walking! once i got in there, sitting at a big table, brick walls, lush pillows and a fully gluten free menu, my gratitude started to grow. i had a mighty delicious meal and couldn't resist partaking in a lil' desert goodness.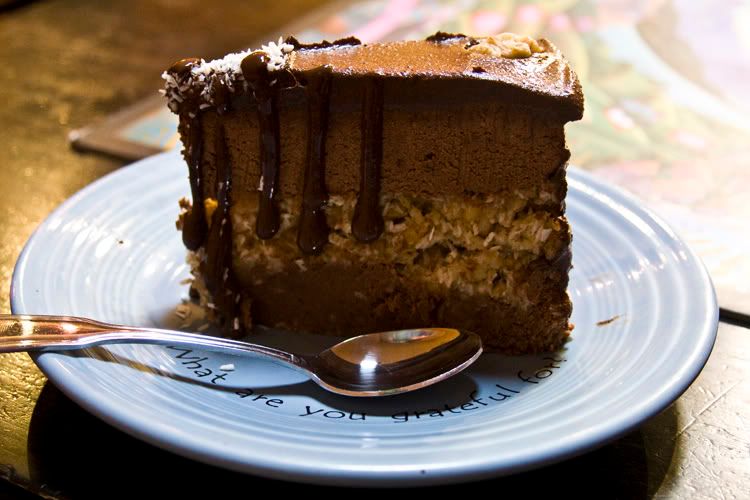 I'm finding that I'm able to shift out of the hibernation state i've been in during this last year and to get that extra push to actually go to out and explore this place every day. i'm still following my intuition of course, like tonight when I was craving a yoga more than a silkscreening class, but i'm glad i'm able to really jump into pretending that I live here during my visit.
perhaps its the sunshine and extra vitamin D people get here, or the beauty of life in the east bay, or just cycle of postive energy that happens when people like their life, but i'm finding folks here to be pretty darn lovely. not a walk down my favourite street goes by that there are not a dozen smiles or nods hello from people passing by.
or maybe its just that i can't stop smiling.