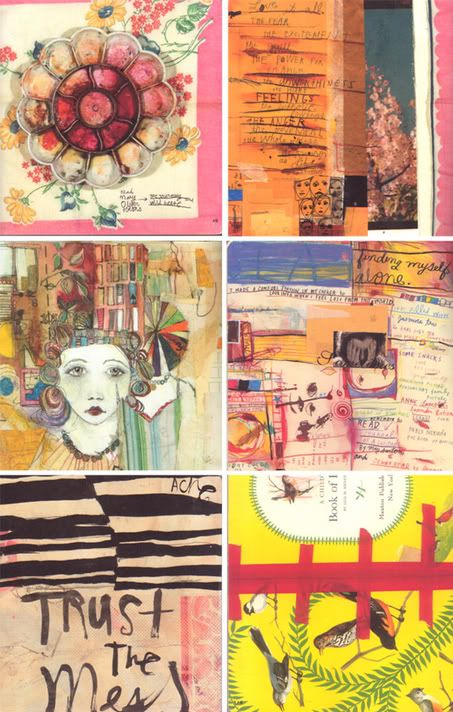 i woke up in california really early this morning, after arriving pretty late last night. i could barely wait for the sun to rise so i could see where it was I had arrived to. once the day was in full force i went for a walk in the rain and was awestruck at what grows here. down the road there is a blossoming magnolia tree which makes me swoon. i can't get over seeing cacti and that there is a lemon bush in the back yard. is this place for real?
i've been determined to get a sense of place today so have walked for hours and hours checking out different parts of oakland/berkeley. my total highlight of the day came on my last walk when I stopped at a place called
Bittersweet
. As I got my coffee I realized that the 5 gigantic canvas' on the walls were sabrina ward harrison's work. I was mighty starstruck by the paintings (not the above ones, but some rich burgandy/brown gorgeous works of art)...i've seen so much of her work in her books, but it was jaw-drop amazed to see all the textures and see the rawness of her work face to face. they took a long time making my coffee which was perfect 'cause i just wanted to stare at them.
the air here is so beautiful. i haven't quite figured out how to describe it. maybe its that there is so much blooming and my winterized senses had gotten used to the somewhat monotonous smell of vancouver rain that there is so much to take in, my senses are going wild.
my last walk was in the late afternoon and i can't tell you how lovely it felt to be seeing everything in the rich light of golden hour. in montreal it was more like a golden 10 minutes, so i just basked in every minute of it. i really love being in a place for the first time. time feels like it slows down, my senses are so acute and i just generally feel mighty alive!
i think tomorrow i'm going to venture over the bridge to san francisco. if anyone has any recommendations of things to do/see/experience in s.f. or the bay area i'm all for recommendations!
p.s. i'm overjoyed that the ever lovely
Caroline
(she who makes
beautiful videos
) has decided to blog! Her blog is already packed through of artful goodness and I hope you pop over there to say hello!