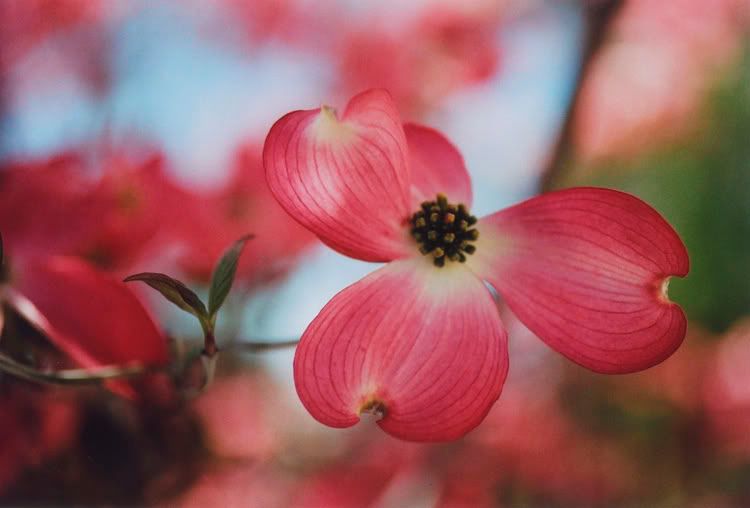 I just got my my first roll of film back from my california trip....and oh...my love for film deepened tenfold. There's such a sharpness and colour density to film that truly doesn't translate to digital. These pictures have me super excited because just before I went away I did a trade with a friend, a gigantic bag of yarn for more than a dozen rolls of expired film....so there's no need to hold back on shooting film at all.
Both my film and digital SLR's take the same lenses. I hadn't played around with using my macro on my film camera too much, but as the following photos attest to...I'm fairly addicted to it now! Its such a different experience taking pictures with film now, as opposed to when I was young. I'm not one of those people that can tell stories about being 8, picking up my first camera, and having my world view changed. Not that there weren't cameras around. I always had one at summer camp and so loved taking pictures of all my camp pals. But there was something about receiving that package of photos that was both exhilerating and frustrating. I'd only get a few good shots. I think way back then I was already a photographic perfectionist in a way that I'm not with any other creative endeavor. Sewing? Give me unfinished seams. Painting? Give me layers of messyness. Collage? Give me ripped pages. Guitar? I know a ton of cords, not by what they are called but by how they sound. But photography brings out the perfectionist in me. Big time!
I'm so glad I took so many pictures of this trip. Both film, digital and my
self-portrait series
can swiftly bring me back to the feelings of wholeness I felt there. Sigh. And so my photo~love grows....